Given the multitude of so-called LinkedIn "experts," let me begin by establishing my credentials.  I have 30,000 first-degree connections on LinkedIn, the maximum permitted.  I have 32,426 followers.  I have published 268 articles on LinkedIn.  They have been read over 425,000 times.  Using LinkedIn, specifically my articles, as the hub of my marketing efforts, I gotten client and I have gained a social media following of over 46,250 individuals including Twitter, Facebook and Parler, as well was on my personal blog.  While the social media sites may cater to different audiences, I behave exactly the same on all four, which may account for my success, all business and no politics.
Here are a few of my secrets:
There is absolutely no reason to reject an invitation to connect from a stranger. That's the entire purpose of LinkedIn, networking.  Networking with people you know is called "talking to friends."  Networking with strangers is called "building a base for your future success."  If you are uncomfortable sharing your connections with others, no problem.   As shown below, click on the "Me" icon on the top of your LinkedIn screen. Go to "Settings and Privacy."  Then click on "Visibility."  Under "Who can see your connections" change the setting from "Your connections" to "Only you."  Problem solved.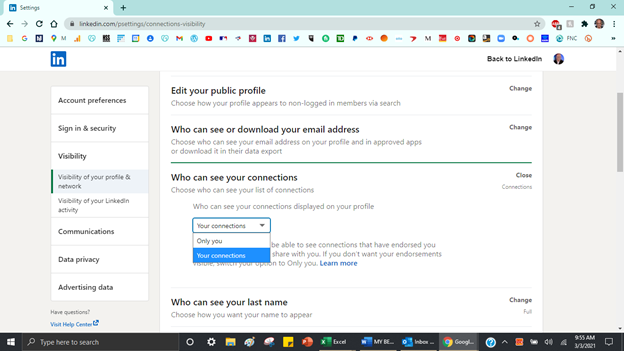 Don't promote your competition. When someone searches for you, on the right side of your profile there may be a section titled "People also viewed."  If someone searched for an expert in your field, when they got to you, they may have found your competitors and hired one of them.  To eliminate that, all you have to do is to repeat what you did to block access to your connections, but this time click on "Account Preferences" and "Syncing Options."  Find, "People also viewed" and turn it off, as shown below.  Problem solved.

You do not need a Premium account to communicate with persons who are not your first-degree connections.
When someone sends you an invitation to connect, click on "See all [number]" and the word "message" will appear in blue.  Click on it and, if you do not plan to accept their invitation, you can still send them a message.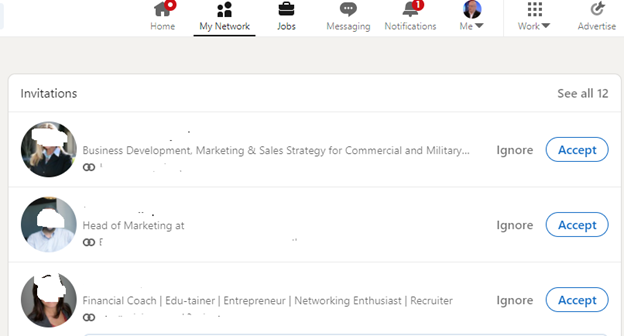 Next, when you find someone with whom you want to connect, you can send them an invitation and personalize it.  You are limited to the number of characters and spaces in the message, but that's a good thing.  It will force you to get to the point.  You can include your email or phone number but, if they are interested, they'll accept your invitation and communication will be simple.  More people respond to unsolicited LinkedIn messages than to unsolicited emails.  But…
In your first communication NEVER pitch. You wouldn't do it in person so don't do it online.  If your first communication is a pitch, you may get blocked.
Lastly, be consistent. Every day, using Hootsuite, I send out four messages on each of my social media platforms.  I have experimented.  The time of day does not matter.  I send them one hour apart. I thought I might be a pest so I stopped sending the messages for one month.  The result: an 80% drop in visits to my website.  When I resumed, the amount of traffic, after six weeks, returned to normal.
But the real key is my articles.  I try to write one a week.  I post them, usually on Sunday mornings.  Instead of a photo at the top, I prepare a "billboard."  It serves to grab attention.  I have no idea what the "secret sauce" is, some get dozens of views, others hundreds. But sharing the links on all my social media platforms and in my 100 groups on LinkedIn and Facebook, are certainly part of my success.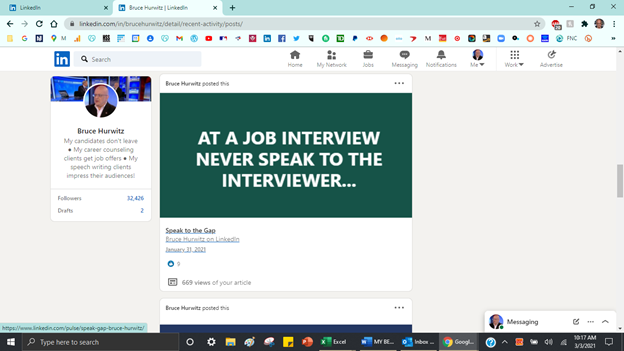 ——————————–
Bruce Hurwitz, the Amazon international bestselling author of The 21st Century Job Search, is an executive recruiter and career counselor. He has helped scores (thousands if you include attendees at his presentations) of people, including veterans, not only change jobs but, on occasion, change careers. Having successfully transitioned from academia to non-profits to the recruiting industry, he has been there and done that! A five-star rated speech writer on Fiverr, he is the host and producer of the live-interview podcast, Bruce Hurwitz Presents: MEET THE EXPERTS.  He is an honors graduate of the Hebrew University of Jerusalem from where he received his doctorate in International Relations majoring in International Law.